Yum-Yum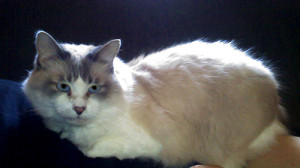 It was summer 2015 when Shelley, a worried cat mom, noticed a growth on her 13-year-old neutered male cat's side. Yum-Yum is especially precious to Shelley because he is her late mother's cat. Shelley wanted to find out what was wrong with her cat, but she knew she wouldn't have the funds if surgery was needed.
She contacted The Cat Ambassador in June and we were able to schedule an appointment with our vet to have the lump evaluated. Yum-Yum did need surgery and we were able to provide the funding for it.
The good news: the lump Shelley had felt was not cancerous. The bad news: an underlying lump the vet found while removing the visible lump was cancer—a rare type.
As of September 29, Shelley reported that the fur on Yum-Yum's shaved side is nearly grown in, he's eating fine, and he seems to be doing great! Here's to a long and happy life, Yum-Yum!