Meet some of the cats (and people) helped by The Cat Ambassador!
See more profiles below:
Duke (or Duchess?)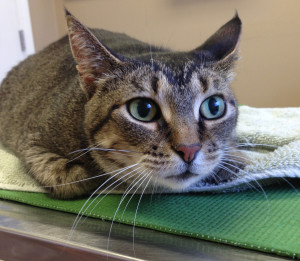 Jane contacted The Cat Ambassador in June 2015 to ask for suggestions regarding a stray cat that had been hanging around their yard since early spring.
Jane and her husband Bob, both retired, were getting attached to the cat, which Bob named Duke. But they suspected that someone owned this nice cat and was probably looking for him. Coincidentally, there were two separate notices posted for lost tiger cats in the exact neighborhood at that time; but neither one was Duke.
With The Cat Ambassador's assistance, Jane took the cat to her vet to have it scanned for a microchip, but found none. It was discovered that Duke was a "she" and, in fact, had a scar from spay surgery. She was also tested for FIV/FeLV (she tested negative!) and received her vaccinations.
Since the couple already has an older indoor kitty, they are hesitant to take in another cat. However, they have supplied a cozy kitty bed for the cold winter months so Duke (or Duchess?) can take shelter in their garage, where she will have fresh food and water every day.
    Benny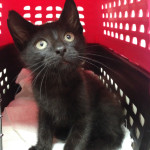 When Dawn moved into her home in Lansing in early summer 2015, she didn't know it came with a kitten! She rescued the little black kitten from her back porch and named him Benny.
Dawn contacted us for help with veterinary expenses and The Cat Ambassador provided the funding for Benny to get treated with kitten Revolution, receive his first vaccinations, and get neutered and microchipped once he was old enough.
His first visit to the vet confirmed he had ringworm; but after a month of treatment and a number of baths, he was able to come out of his isolation room and meet the resident cat, an older female named Merlynn.
Unfortunately, Merlyn decided she didn't care for the new kitten and promptly took a bite out of his side. This led to an abscess that needed veterinary attention. Benny was put under anesthesia, the abscess was cleaned out, and three plastic surgical drains were placed so the wound could continue to drain. He was sent home with a supply of antibiotics and pain meds, and wearing a "cone of shame."
The drains were to stay in place for two or three days—but Benny had other ideas. He proceeded to take off his "cone of shame" and then removed two of the three drains. So back to the vet, where Benny stayed for a couple of days so the vet could keep a close eye on him to make sure he would not remove the vet's handiwork again!
Benny is home now and is being cautiously reintroduced to Merlynn.
    Jasmine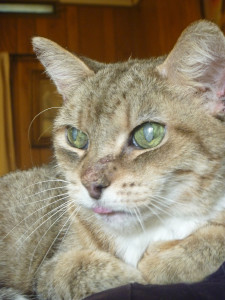 We first met Jasmine, a sweet 15-year-old blind kitty, in March 2015.
Jasmine's cat daddy, Shawn, contacted The Cat Ambassador because Jasmine had begun scratching herself incessantly, and had open sores on her ears and parts of her body. Shawn was not able to afford to take her to his vet.
We took her into our vet, who gave Jasmine a full workup—complete blood work, urinalysis, a fungal culture, and testing for FIV/FeLV (negative!). She was prescribed oral antibiotics, steroids, and medication for an ear infection.
Although she had improved somewhat, she had another flare up. The vets are trying to get to the bottom of what appears to be an allergic reaction. She is now on a special diet (duck), and has been treated with Advantage, in case it's a flea allergy (even though she is an indoor kitty). She was also put on another course of oral steroids.
This fall, Shawn noticed that Jasmine had labored breathing. A visit to the vet has determined she has some fluid in her chest cavity; possibly due to heart disease or cancer. She is currently being treated with medication and will be rechecked by our vet.
    Mia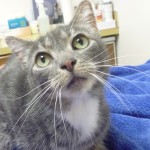 Mia is a 4-year-old neutered male. His owner noticed recently that the left side of his mouth and his chin were swollen. Even though Mia was not currently having problems eating or drinking, and the swelling seemed to be subsiding, the owner wanted to have him checked out by a veterinarian; but she did not have the finances to do so.
The Cat Ambassador made an appointment for Mia to be examined by a veterinarian. The good news: there was not a tooth problem (just a little bit of tartar). It appears that the cat may have had an allergic reaction (the cat has had a history of skin problems due to allergies).
If the problem persists or worsens, The Cat Ambassador will schedule a follow-up appointment with the veterinarian.
    Garfield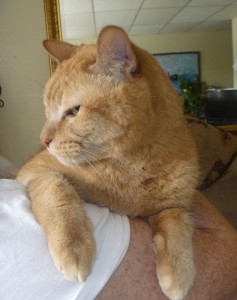 Garfield, a 13-year-old neutered male, had been sneezing blood for several days, and losing weight; his owner did not have the money to take him to the vet.
The Cat Ambassador intervened and took him to the vet. He was diagnosed with a respiratory infection.
After a course of antibiotics, the symptoms cleared up and Garfield's appetite returned.
Follow-up bloodwork was normal.
Ollie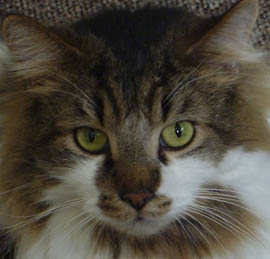 Ollie, a young neutered male cat, had a severely matted coat. The owner tried to groom and trim out the mats, but Ollie was not very cooperative. He could not afford to take him to the vet, or a groomer, to have the mats removed.
The Cat Ambassador took Ollie for a ride to a pet groomer, who removed all of his mats. Although Ollie was not very happy about the day's events, he felt (and looked) much better!
Jackie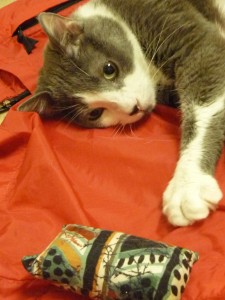 The odds were against Jackie, a 9-year-old gray and white neutered male. Newly diagnosed with diabetes, he then tested positive for FIV (feline immunodeficiency virus).
Jackie's owner had already been having a tough time financially providing just basic care. She also had health issues of her own. So when it was discovered that her cat was diabetic, she asked The Cat Ambassador to help place Jackie in a new home.
After four weeks, no one had come forward to adopt Jackie. Some people even suggested it might be best to humanely euthanize him. But I refused to give up hope! I then received an e-mail from a potential adopter: "Did Jackie ever get adopted? If not, is he still alive?" My heart soared!
Jackie was one lucky cat! He was adopted the next day by not one, but two veterinarians! The couple had previously had diabetic and FIV kitties, so that was not an issue for them.
As soon as they got him home, I received this e-mail: "Jackie is home, and my husband is already in love with him. . . You are an angel for saving him; we're so happy to be able to add him to our family!"
Check back soon to meet more cats as we update this page.